6539 - Delightful apartment in Punta del Este
Maldonado | Playa Brava
A delightful apartment situated in an excellent location in Punta del Este. Very near all amenities, banks, schools, universities and just five minutes by car from Playa Mansa and Playa Brava. The apartment comprises living/dining room with quality furniture, kitchen with utility room, three bedrooms and two bathrooms - one en suite in the master bedroom, double terrace access from the living room and one of the bedrooms, as well as a garage and private barbeque with BBQ/grill and wood burning stove. The apartment affords excellent views to green surroundings, the buidings in Punta del Este and Playa Brava. The building also has a heated swimming pool, two saunas, gymnasium, BBQ/grill, optional maid service and games room.
Comodities / Services
Bedrooms

3

Bathrooms

2

In suite

1

Garage

Si

Number of cars

1

Star

Yes

Grill

Yes

Pool

Yes

Playroom

Yes

Balcony

Yes

Terrace

Yes

Kitchen full

Yes

Pets not allowed

Yes

Freezer

Yes

Bedding & towels

Yes

Surveillance

Yes

Housekeeping

Yes

Gym

Yes
Ubication
Propiedades relacionadas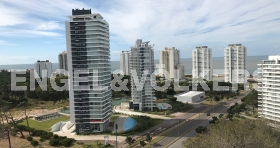 The prices do not include the tenant commission, they are for reference and often depend on: the number of occupants, the number of days and the rental dates. The commission charge amounts to 10% plus VAT (22%) (if applicable) of the value of the operation as long as it is for less than 12 months. In the case of annual contracts, the commission amounts to a month's rental + VAT (22%). In all cases, a deposit of at least 20% will be required. This data is provided by third parties for information purposes only and is assumed to be correct. Our company does not guarantee its authenticity. The offer is subject to errors, price changes, omissions and/or removal from the market without prior notice.