Modern house ideal for living all year round
Maldonado | Golf / Beverly Hills
In the lovely and peaceful Beverly Hills area, this house is ideal for all-year-round living since it is located near all amenities, including restaurants, schools, hospitals, etc. It is single-storey with a split-level basement area comprising a double garage and utility area. The property consists of three bedrooms (one with en suite bathroom), large living/dining room with fireplace, kitchen, TV lounge and guest bathroom. From most of the room you have direct Access to the terrace and garden. The construction of a second floor is possible for this property if so desired, as well as the installation of solar panels. There is gas-powered underfloor heating, air conditioning in all the rooms and the windows and doors are weather-proofed and double-glazed.
Maldonado | Golf / Beverly Hills
Comodities / Services
Floors

1

Bedrooms

3

Bathrooms

3

In suite

1

Garage

Si

Number of cars

2

Sea distance

2000 mts

Star

Yes

Fireplace

Yes

Garden

Yes

Backyard

Yes

Grill

Yes

Pool

Yes

Kitchen full

Yes

Wifi

Yes

Cable Tv

Yes

Air conditioner

Yes

Pets not allowed

Yes

Microwave

Yes

Freezer

Yes

Kettle

Yes

Bedding & towels

Yes
Propiedades relacionadas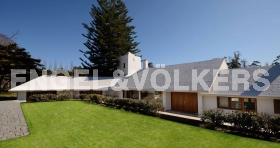 Maldonado | Golf / Beverly Hills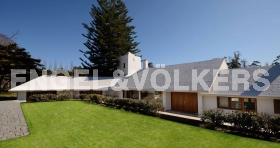 Maldonado | Golf / Beverly Hills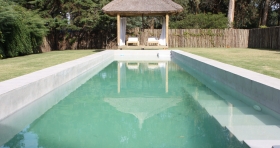 Maldonado | Golf / Beverly Hills
The prices do not include the tenant commission, they are for reference and often depend on: the number of occupants, the number of days and the rental dates. The commission charge amounts to 10% plus VAT (22%) (if applicable) of the value of the operation as long as it is for less than 12 months. In the case of annual contracts, the commission amounts to a month's rental + VAT (22%). In all cases, a deposit of at least 20% will be required. This data is provided by third parties for information purposes only and is assumed to be correct. Our company does not guarantee its authenticity. The offer is subject to errors, price changes, omissions and/or removal from the market without prior notice.