Design and good taste
Maldonado | José Ignacio Rural
This magnificent single-storey property is located just two kilometres from the little town of Jose Ignacio. Its 'L'-shaped form separates the social area from the bedrooms, providing privacy for both. It comprises an entrance hall with cloakroom, guest bathroom and spacious living/dining room with access to a deck featuring the swimming pool. The left wing consists of three suites, plus the master suite, all with direct access to the swimming pool. The BBQ/grill with a table catering for 12 is situated outside the right wing.
Maldonado | José Ignacio Rural
Comodities / Services
Floors

1

Bedrooms

4

Dorm. servicio

Si

Bathrooms

5

In suite

4

Sea distance

1000 mts

Star

Yes

Fireplace

Yes

Garden

Yes

Backyard

Yes

Yard

Yes

Grill

Yes

Pool

Yes

Kitchen full

Yes

Wifi

Yes

Cable Tv

Yes

Air conditioner

Yes

Microwave

Yes

Freezer

Yes

Kettle

Yes

Bedding & towels

Yes

Parking

Yes

Alarm

Yes
Prices
Propiedades relacionadas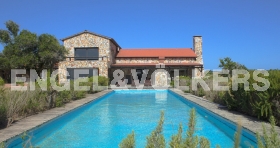 Maldonado | José Ignacio Rural
The prices do not include the tenant commission, they are for reference and often depend on: the number of occupants, the number of days and the rental dates. The commission charge amounts to 10% plus VAT (22%) (if applicable) of the value of the operation as long as it is for less than 12 months. In the case of annual contracts, the commission amounts to a month's rental + VAT (22%). In all cases, a deposit of at least 20% will be required. This data is provided by third parties for information purposes only and is assumed to be correct. Our company does not guarantee its authenticity. The offer is subject to errors, price changes, omissions and/or removal from the market without prior notice.