4617 - Exclusive property in El Golf
Maldonado | Golf / Beverly Hills
This impressive property is located in extensive grounds designed by a renowned landscape architect and was planned by a famous architect along with the owner. Each detail has been meticulously considered in order to achieve a unique and beautiful finish. Its layout is practical and logical, with the social area clearly separated from the bedrooms. No expense has been spared in the construction of the property and its decor is subtle and sophisticated with original pieces of furniture. It comprises a sizeable living/dining room with made-to-measure steel fireplace, gourmet kitchen with direct access to the BBQ/grill and a staff area with two bedrooms and kitchenette. The bedroom wing consists of a spectacular master suite and three ample suites, all with direct access to the garden, and a playroom or multi-purpose room. There is also a semi Olympic-sized swimming pool, stove and parking for several vehicles. A dream that only a few can make real and appreciate.
Maldonado | Golf / Beverly Hills
Comodities / Services
Floors

1

Bedrooms

4

Dorm. servicio

Si

Bathrooms

5

In suite

4

Heating

Si

Sea views

Si

Star

Yes

Fireplace

Yes

Garden

Yes

Backyard

Yes

Yard

Yes

Grill

Yes

Pool

Yes

Kitchen full

Yes

Jacuzzi

Yes

Wifi

Yes

Cable Tv

Yes

Air conditioner

Yes

Heating

Yes

Pets not allowed

Yes

Microwave

Yes

Freezer

Yes

Kettle

Yes

Bedding & towels

Yes

Parking

Yes

Alarm

Yes
Ubication
Propiedades relacionadas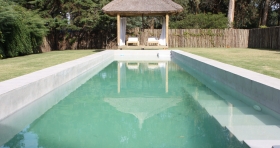 Maldonado | Golf / Beverly Hills
The prices do not include the tenant commission, they are for reference and often depend on: the number of occupants, the number of days and the rental dates. The commission charge amounts to 10% plus VAT (22%) (if applicable) of the value of the operation as long as it is for less than 12 months. In the case of annual contracts, the commission amounts to a month's rental + VAT (22%). In all cases, a deposit of at least 20% will be required. This data is provided by third parties for information purposes only and is assumed to be correct. Our company does not guarantee its authenticity. The offer is subject to errors, price changes, omissions and/or removal from the market without prior notice.