Avant-garde house in José Ignacio
Maldonado | Arenas de José Ignacio
This modern and comfortable property designed by the architect, Martín Gómez, is located on a spacious plot with open sea views. The ground floor comprises three bedrooms, large living room, WC, study and storage area. The first floor consists of bedroom with en suite bathroom and marvellous views to José Ignacio and the lighthouse, plus spacious living/dining room and ample terrace. A lovely swimming pool, pergola with BBQ/grill and exterior dining room, stove and garden with views to natural surroundings complete this wonderfully-located property.
Maldonado | Arenas de José Ignacio
Comodities / Services
Floors

2

Bedrooms

4

Dorm. servicio

Si

Bathrooms

4

Garage

Si

Sea views

Si

Star

Yes

Fireplace

Yes

Garden

Yes

Backyard

Yes

Yard

Yes

Grill

Yes

Pool

Yes

Balcony

Yes

Terrace

Yes

Kitchen full

Yes

Wifi

Yes

Cable Tv

Yes

Air conditioner

Yes

Heating

Yes

Pets not allowed

Yes

Microwave

Yes

Freezer

Yes

Washing machine

Yes

Dish washer

Yes

Kettle

Yes

Bedding & towels

Yes

Parking

Yes

Alarm

Yes
Prices
Ubication
Propiedades relacionadas
Maldonado | Arenas de José Ignacio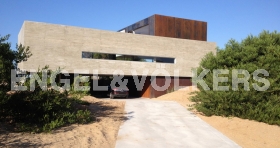 Maldonado | Arenas de José Ignacio
Los precios son a modo de referencia y dependen en muchos casos de: la cantidad de ocupantes, la cantidad de días y las fechas que desee alquilar.
Para todos los casos se solicitará una garantía de por lo menos 20%.
Los datos expuestos son ofrecidos por terceros, meramente informativos y se suponen correctos. Nuestra empresa no garantiza su veracidad. La oferta se sujeta a errores, cambios de precio, omisión y/o retirada del mercado sin aviso previo. Los gastos de comisión ascienden al 10% + IVA (22%) (si correspondiese) del valor por el cual se realice la operación siempre que sea menor a 12 meses. En el caso de contratos anuales, la comisión asciende a un mes de alquiler + IVA (22%).